The human heart is, somehow, in rhythmic harmony with the pulse/heartbeat of the Earth…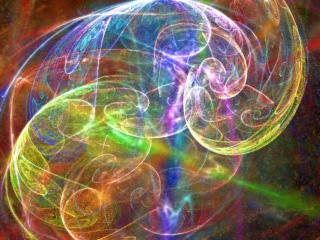 The Earth is, somehow, in rhythmic harmony, in sync with the pulse/heartbeat of the Sun…

And the Sun is, somehow, in rhythmic harmony, in sync, with the pulse/heartbeat of the Galaxy in which we reside…
And our Galaxy is, somehow, in rhythmic harmony, in sync with the entire Universe's pulse/heartbeat…
And when there is a "change" in the pulse/rhythm broadcasting through the Universe, it, somehow, adjusts the pulse/heartbeat of our Galaxy, and our Galaxy adjusts its pulse and changes our Sun's pulse/heartbeat, and the Sun adjusts the pulse/heartbeat of the Earth, our home…
And here is what is truly awe-inspiring (as if the latter was not enough!):  in this transformation of energy patterns affecting other energy fields, the Earth, somehow, adjusts the literal pulse/heartbeat of our actual physical hearts.
One thing is consistent for all life:  it needs relationships to exist and to express.  Millions/billions of simple/complex living relationships exist everywhere.  From simple elements such as hydrogen and oxygen forming water to the union of two beings creating a child.  From receiving nourishment through food and water to the nourishment of our hearts.
As far as the transformation of heartbeats/pulses in our universe, the how and why is not known "scientifically."  But these living relationships, the transfer of rhythms from one to the other, with distance meaning nothing, do something that indicates a living, active relationship.  There seems to be One Being here, communicating.  And its cellular components are in relationship in every moment, no matter how confusing things may seem.
Life exists because "relationships" exist: it is a basic building block of reality for us.
Learning to feel the sameness, the union, in life can ignite wonder, awe, hope for positive change anywhere in our lives.  Look in all directions, not just up and down and inward.  Feel what is going on here, and fall into the wonder and awe and magic of being alive.
Who knows how or why?  Just allow yourself to feel the impact of such truths, for this is evolution at work, when your heart is moved to feel beyond everyday perceptions.  Let it help you begin to see the forest and not be restricted by just seeing the trees.  And the forest is the living network of the Cosmos, somehow magically expressing itself as "us."
And when we begin to feel life and relax our tendencies to be thinking about it and what we can do 'to' it, true evolutionary magic begins.
As for our daily lives?  Well, I would suggest taking it one relationship at a time, whether it is with yourself, another, others or beyond.  This begins the journey into Oneness throughout time and beyond.  Each pulse/heartbeat expression of awe and wonder, one healed person at a time, each with the potential to ignite something "unknown" in another, sometimes in ways that are not understood.
What a wonder!
read more